The office must become more flexible to meet today's dynamism, sure to only escalate. Pods will likely become a permanent part of this equation for many teams, as they are effective today and versatile for tomorrow — mobile and user-friendly, they are the flexible backbone of a flexible office. Indeed, pod-based flexible office design addresses many present business challenges: the current shift toward in-office working, unpredictable occupancy fluctuations, growing diversity, and pending inflation.
As the gig economy booms, with an increase in freelance, contract, and remote workers, the need for flexible office setups that can cater to different working styles, team structures, and fluctuating occupancy rates increases in tandem. Pods help here as well, giving come-and-go employees dependable spaces to work and meet on-site. Additionally, the workforce is becoming more diverse in age, gender, culture, and so on with each passing year. Adaptable — and, therefore, more universally accessible — office spaces also help here, catering to a rich symphony of needs and preferences.
The last two years have changed the employee's perception of office work and redefined their needs. Our observations and analysis have led us to conclude that today the most important and desirable feature of an office is the freedom to choose where and how to work. It is up to the employee to decide when, where, and how they want to work. They choose a location that matches the nature of the work they are doing. Today, it is the office infrastructure that must respond to the current needs of the employee. This is why we decided to introduce a new line of acoustic pods that fit perfectly with these needs
explains Mateusz Barczyk, Senior Brand Manager at Hushoffice.
In light of these challenges, Hushoffice will be presenting their newly improved line of three acoustic, mobile office pods, which will be showcased at NeoCon this year — a line called HushFree. There are many key areas where pods like the HushFree line add value. Firstly, they make the office more attractive to the workforce. Many employers are scaling back their flexible working policies to support more in-person working. Pods aid in bringing employees back by making the office a more desirable location. Consider FlexJobs's 2020 Annual Super Survey's insight into why half the workforce was more productive at home throughout 2020 and therefore preferred it. Fewer distractions, fewer interruptions, more focused time, and a quieter work environment at home. Pods supply those exact markers: fewer distractions, fewer interruptions, more focused time, and a quieter work environment. So they present a beautiful solution for luring people back to the office. They have the potential to make the office a better work environment than the home can be for many employees.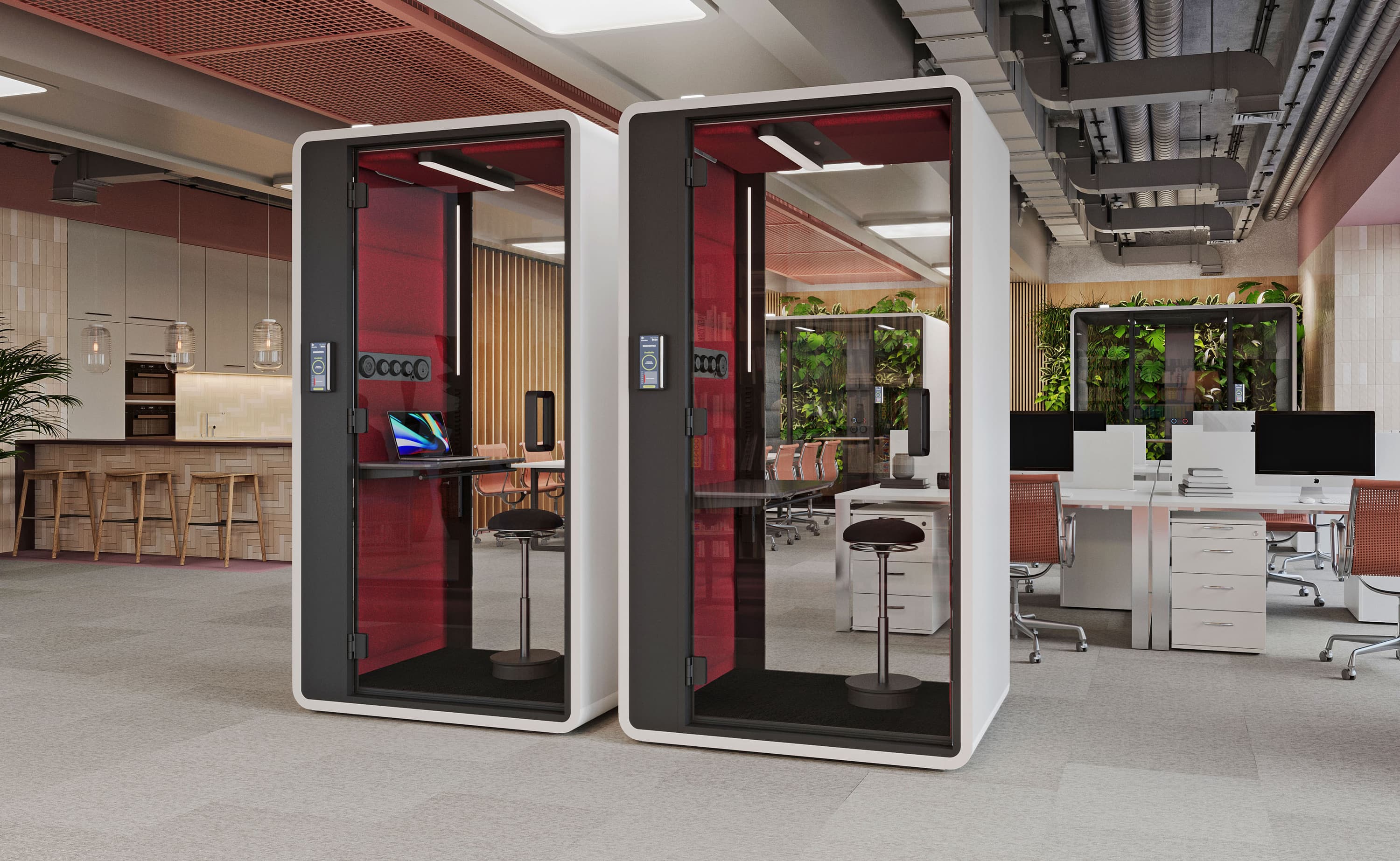 Each pod in the HushFree line has been developed in response to the needs of the flexible office of the future for work and meetings. Each provides the freedom to choose where and how to work while maintaining the highest acoustic comfort. There is the HushFree.S acoustic pod for one person, created for individual work, telephone conversations, and video conferences. It features a table with manual height adjustment and additional LED side lighting to ensure proper facial illumination during longer hybrid meetings, training sessions, and online presentations. The pod can be moved around the office area without the need to dismantle it. Then there is HushFree.M, an acoustic pod that provides independent working and meeting space for four people. It can be configured according to unique needs — you can order it empty and furnish it with your own furniture, order it only with a table, or order it with sofas, or a table and an additional TV mounting bracket inside. This pod can also be moved around the office area without the need to dismantle it. Then there is HushFree.L — the new acoustic pod dedicated to larger project meetings, video conferences, and team meetings. The pod can be similarly configured according to specific needs — you can order it empty and furnish it with your own furniture, order it with sofas and a coffee table, or choose a version with a meeting table and add some chairs, as well as choose an option with an additional TV mounting bracket inside. This new line of acoustic pods for work and meetings from Hushoffice is an ISO 23351-1:2020, Class A acoustic solution with a completely refreshed pod interior — new acoustic panels available in nine colors, extremely efficient ventilation with ultra-quiet fans, new 500 lux lighting, flexible pod configurations and furnishings — all to provide users with an acoustically comfortable space to work effectively whenever they need focus and comfort in the workplace.

The office of the future definitely holds more challenges. A few years ago, acoustic pods started to be a part of the office landscape — this new generation of Hushoffice pods set the standard for office functionalities. One thing we can be sure of — the HushFree line of products is future-proof and versatile, exceeding expectations, it is ready for fast-changing office environments
says Robert Korpacki, Product manager at Hushoffice.
Moreover, at a time of looming inflation, pods can help businesses tighten their overhead and improve organizational efficiency. They grant the possibility of moving into a smaller space and using every square foot most smartly. They are compact, independent structures that can be moved around, letting a team work effectively on a relatively limited floor plan. It is worth extra emphasis that pods like the HushFree pods are finely engineered work and meeting spaces — well-lit, well-ventilated, and impeccably sound-insulated — so while moving into a smaller space or subletting a portion of your space pares down your overhead, implementing and relying on perfect work and meeting spaces like pods can increase your productivity at the same time. They block sound out while insulating sound that is made inside, giving users a quiet environment while making the floor more productive for others through reduced background noise.
HushFree pods satisfy the key ambient qualities for safe, comfortable, long work sessions: exceptional acoustics, proper lighting, and good airflow. HushFree.S, HushFree.M, and HushFree.L are all A-rated acoustic structures, guaranteeing quiet and speech privacy. Each pod also has 500 lux lighting — a sufficient level for carrying out most office tasks comfortably. 500 lux protects employees from eye strain and fatigue while operating efficiently and cost-effectively. The mere affordance of adequate lighting at preferred workspaces goes a long way in supporting steady employee output; while the right light level lets the eyes focus without tiring, more immediately, it facilitates a calming quality of ease that befits employee wellness. Each pod in the line is also constantly supplied with fresh air from the open floor. As a result, employees are free to take a metaphorical breather inside a HushFree pod, breaking away from the office's hubbub in their own refuge that is always pleasant, never stale or stuffy.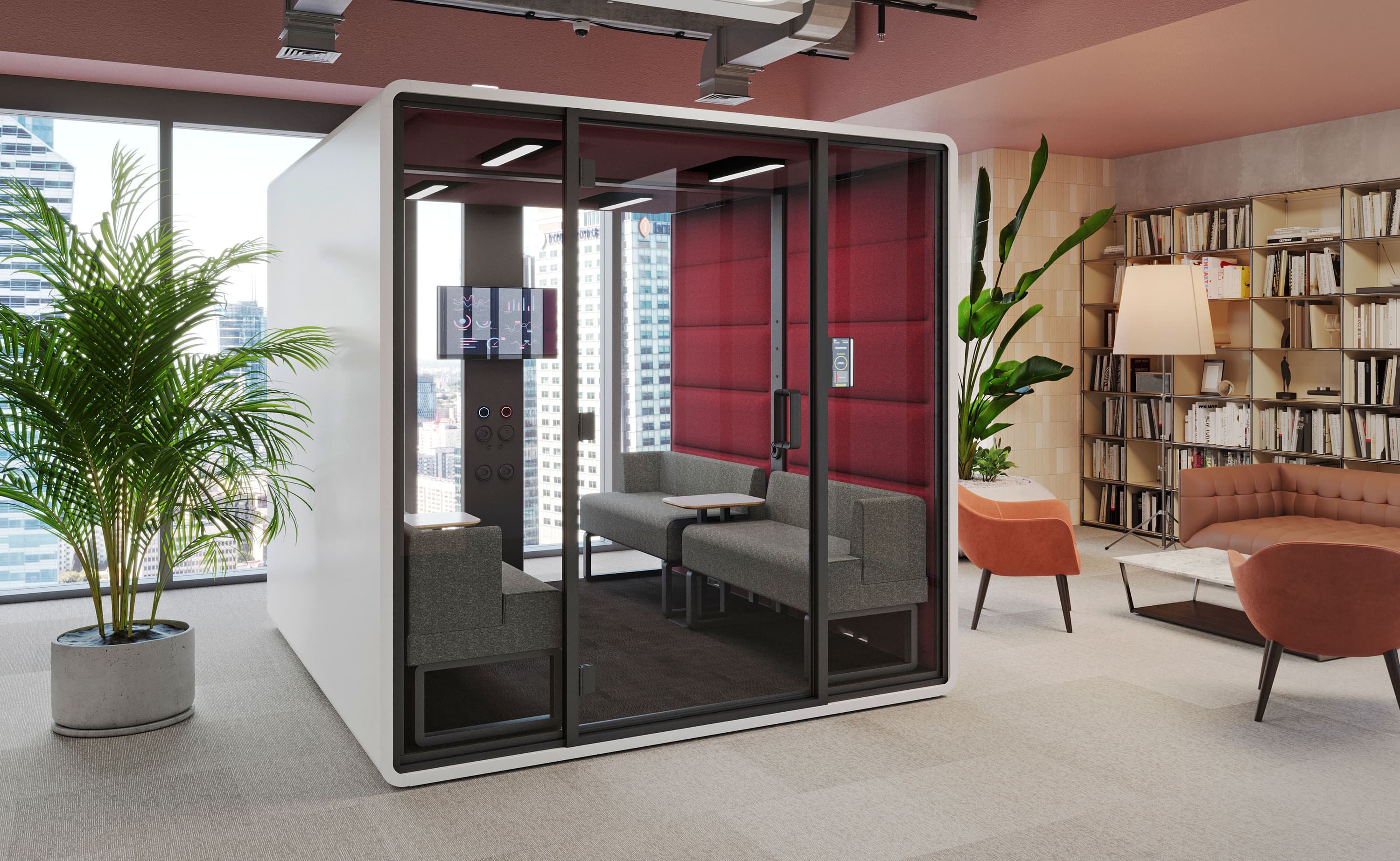 Should a team member need to take a beat, work alone, or gather with coworkers without distraction, acoustic booths provide the prime location. For team members who are introverted, prone to anxiety, or have sensory sensitivities, ADHD, or any other neurodiverse conditions affecting their cognition, the quietude enjoyed within such an office pod is indispensable, helping curb burnout and heighten performance. Pods can thereby help make a workplace more inclusive by giving employees of all kinds the periodic isolation they need to feel and perform well.
Unlike built infrastructure, pods are relocated and relied on across several years, ensuring a long lifespan and minimizing environmental impact. They can bring cost savings in the end by eliminating the need for new furniture over time. To illustrate, the HushFree.S pod for one person and HushFree.M pod for four people can both be moved without disassembly, allowing a team to modify their office arrangement quickly and with no waste, all the while preserving go-to work and meeting spaces. This benefit is considerable; since HushFree pods are substantial structures, nearly eight feet tall, they divide space wherever they are placed — so when you migrate just one in the office, you adjust the layout as a whole, carefully shaping its flow of traffic, noise, and energy. Meanwhile, each pod accommodates essential tasks. HushFree.S, for instance, with its video call lights and sound insulation, constantly supplies the basics for professional video conference calls, strengthening one of the primary links between on-site and off-site employees.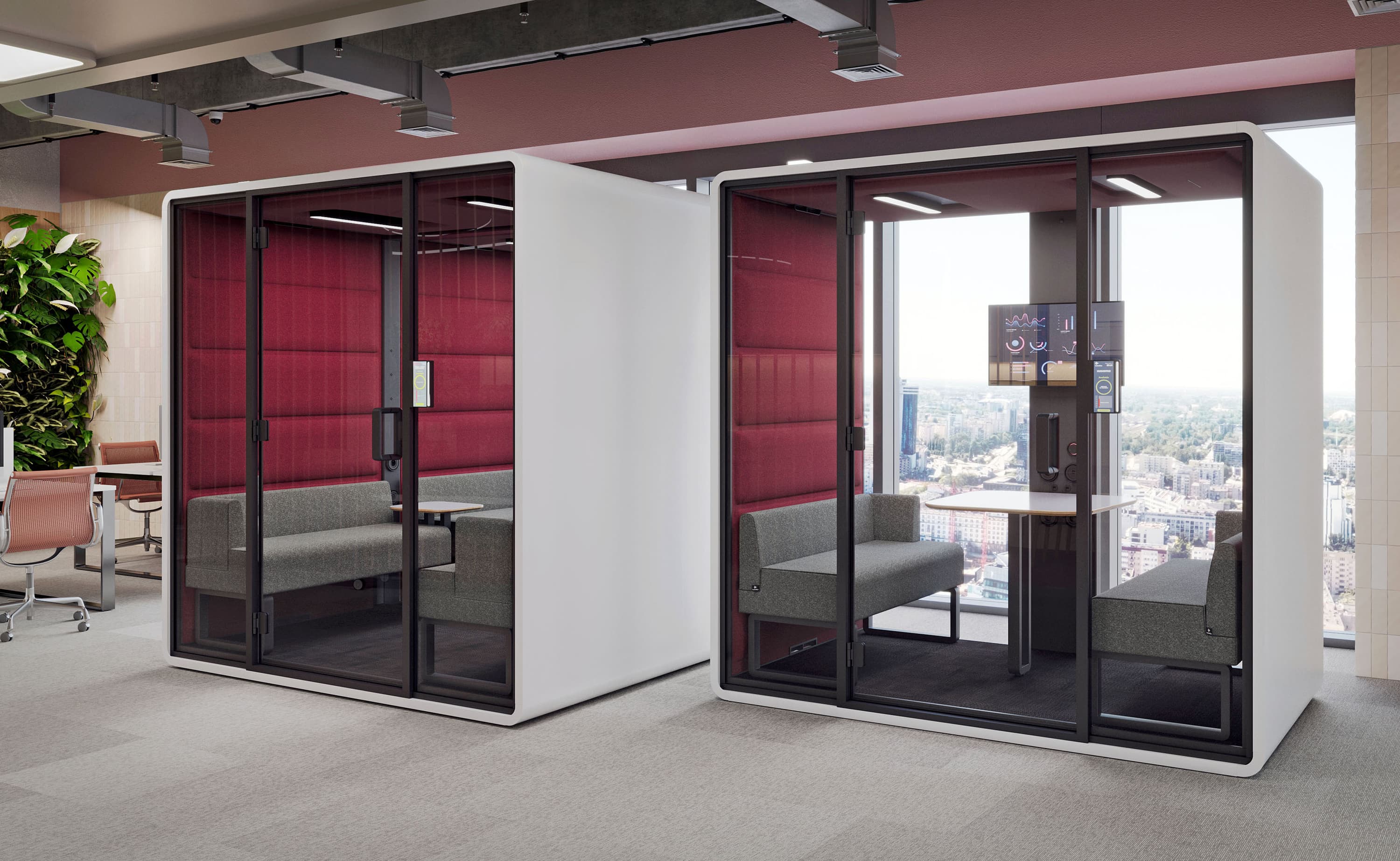 In a word, acoustic pods are all about freedom. They give employees freedom of ease — comfortable, convenient work and meeting spaces at the ready. They give those hindered by excessive stimuli freedom of peace — a private environment for micro-breaks. They give facilities managers the freedom of efficiency — optimized space utilization and the leeway afforded by a trimmer overhead. General managers and architects enjoy the freedom of adaptiveness through pods — of an adjustable layout. With pods on the floor, business owners have the freedom that comes with more streamlined, less stressful office moves — of being able to take their main work and meeting spaces with them wherever they go, setting up a move-in ready workplace in weeks rather than months, for minimally interrupted productivity. And purchasing managers and procurement specialists have the freedom of customizing each HushFree pod's interior to fit specific functions and aesthetics: the sofas, tables, chairs, upholstery, features, etc. Undeniably, freedom is not only desired but vital from this point forward. Employees want it while employers and directors need it. Pods offer a substantial degree of it to all in the formula for success.
Catch Hushoffice at NeoCon June 12th-14th! We will be showcasing our new HushFree range of acoustic pods on the 7th floor at booth 7- 7-8038 for the duration of the fair.