Designing the Metaverse - the value of starting before you're ready
With any new venture, finding the "right" time to start is often a fruitless endeavor. So when faced with the prospect of designing an entirely new universe, you should forgive yourself if you're not quite sure where (or maybe even why) to start. As any successful entrepreneur will tell you, in a circumstance like this, it's always best to start before you're ready...
And with "the metaverse" on everyone's lips as we head into the second half of 2022, the race is already on.
The technology is coming. Fast. Hundreds of billions of dollars of investment are being earmarked to build the metaverse from the world's top venture firms as well as major players like Apple, Microsoft, Qualcomm and many more investing at unprecedented rates to claim a leadership position. Facebook took this one step further by actually renaming their company, "Meta".
With the world's largest and most successful companies all-in on this new frontier, the barriers to entry are dropping rapidly. And as all of these players create their own vision of what this future world will look like, there are already groups working to ensure that in the future, these experiences will even be interconnected.
This is happening. If you're watching the space closely, rarely does a week go by without the announcement of another major advance or innovation. As a species our speed to adoption of technology has been increasing exponentially. It took the telephone 50 years to reach mass consumer adoption but by the same scale it took TV 22 years, the internet 7 years and the iphone less than 3. The metaverse won't be far behind––which is a compelling prospect for someone considering how these worlds will be designed and how we'll interact within them to get started.

First Photo courtesy: Luke Leitch, Vogue.com
"But it all still looks like a 7th grade art project." Fair,but therein lies the opportunity. Most metaverse scenes you're familiar with today are from worlds that have been designed as games with younger audiences in mind. This won't be the norm for long. Zaha Hadid made a bold statement already in designing conceptual worlds and the technology to support the kind of high fidelity visuals we're used to seeing to sell pre-fabrication projects will quickly be widely available. Simultaneously, technologists are working to layer in opportunities for more complex human interaction, commerce, and anything else we can imagine.
In the wake of this, for the design community, a new creative opportunity is emerging. What does a chair, a room or a building look like when materials, building codes, ergonomics, and even gravity cease to be a consideration? What happens when a new metaverse decides to inherently re-write these rules and create a new set of design challenges?
These questions and more are about to take the design world by storm as people begin to explore virtual environments in which they'll work, play and connect. Distinct opportunities exist to create new kinds of immersive virtual environments that redefine how organizations will extend their future of work strategy for remote employees, post-secondary institutions continue their push for globalization, and friends and families find new opportunities to connect in an increasingly globalized society.
Striking a balance between the timelessness and tradition of authentic design and the possibilities presented by technology is an age-old story. But rarely does that technology promise the kind of simultaneous and fundamental leap for both business and the human experience that we're seeing today. The opportunity to stake a leadership position and define a new realm of human interaction is upon us.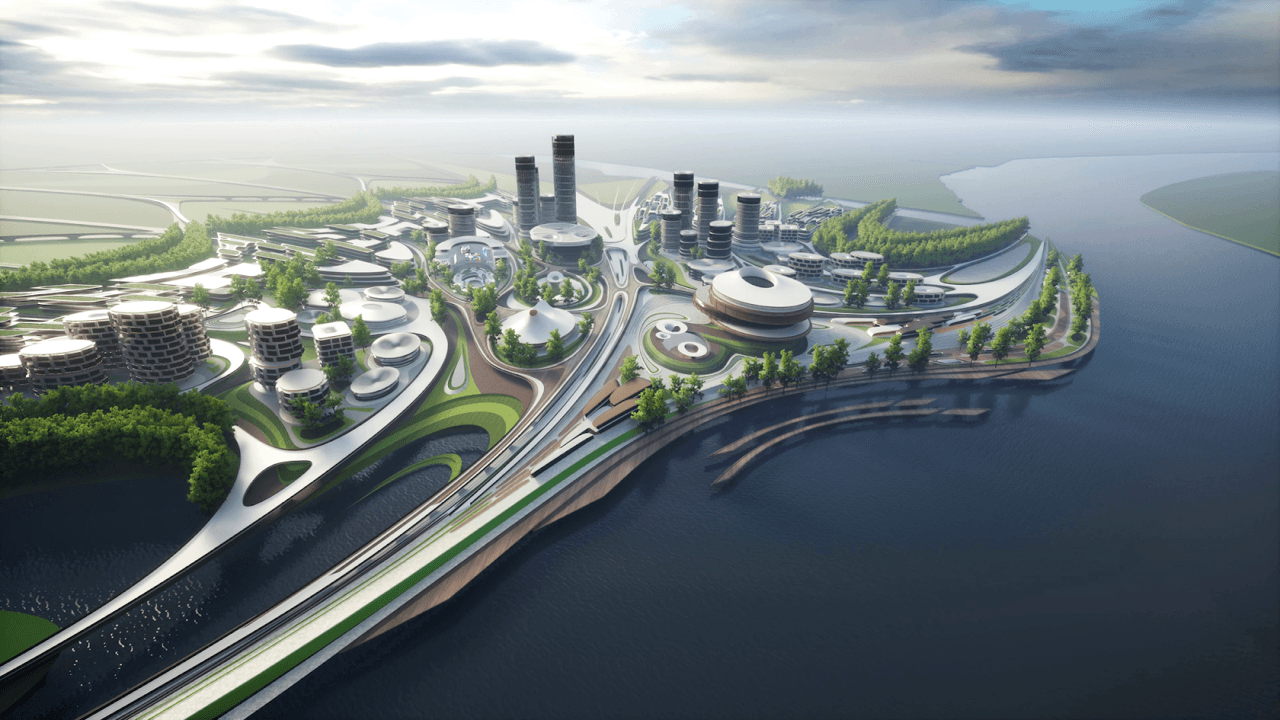 Zaha Hadid's 'Cyber Urban' Metaverse city concept
The pandemic just spent two years priming us for this. Those endless hours of personal and business zoom calls (and the endless additional hours teaching your parents to use zoom) have already made us more comfortable with gathering in virtual spaces than we might've previously thought possible. Yet who among us didn't also find ourselves often thinking that the zoom experience was lacking? Who didn't consider for a moment how that experience could be elevated?
Across business and personal interactions, we're on the verge of a major opportunity to define a new paradigm. We're at the start of a journey where it's not entirely hyperbolic to draw parallels to the first person who considered that when our legs got tired, we didn't need to sit on a rock or a stump, but that we could create a better way to sit. To 'invent' a chair.
And yes, we're in the middle of a hype bubble. And yes, you need to put some of your faith in technology that you might not understand. And yes, most people you know have no real desire to spend their time in a metaverse because the value proposition isn't there for them…yet.
If there's a teenager in your life you know how much time they're already spending in virtual worlds; the world's biggest companies are betting on their shareholder value on this succeeding. We've just spent an unprecedented two years as a society learning how to interact virtually, albeit in primitive environments.
You're never going to be 'ready.' But the opportunity to define how new worlds of human interaction will be created is coming. Fast.
And the time to start is now.