Healthy People/Healthy Planet
Like most architects, planners and urbanist in general, we have been thinking about the lasting effect COVID-19 will have on the built environment...especially cities. Until March, it seemed that the 21st century was going to be an age lead not by empires or countries but by powerful cities. Rapidly growing urban areas produced over 80% of the World's Gross Economic Product and housed over 50% of its population. People living together inspire each other. Along with density comes intellectual innovation and economic energy. And now just a few short months later, we are being forced to rethink how we occupy our buildings and public spaces and how to replace essential synergies.
Ross Barney Architects designs almost exclusively in this public realm. In the past few years we have concentrated on creating space that is sustainable, inclusive and resilient. The COVID-19 crisis has tested our work in ways we had not imagined. We haven't had the opportunity to conduct in-depth evaluations of post COVID building performance but initial glimpses are intriguing.
Looking at two recent projects, our observations suggest that solutions that are developed for enhanced sustainability are inherently likely to be healthier and, more resilient.
The Searl Visitors Center at the Lincoln Park Zoo is designed to transform according to climatic conditions from indoor space to an outdoor welcome pavilion using movable wall technology from Nano wall. During nice weather in peak season, volunteer guides sit outside to greet guests while saving energy that would be used for cooling an enclosed space. When the Center opened in 2018, this energy saving feature was thought of as desirable but not essential. It was employed only occasionally under perfect conditions.
This summer is different. When the Zoo reopened after a multi month long shutdown, the fresh air pavilion is a major asset protecting the health of guest while serving them. Healthy building amenities are symbiotically linked to sustainability.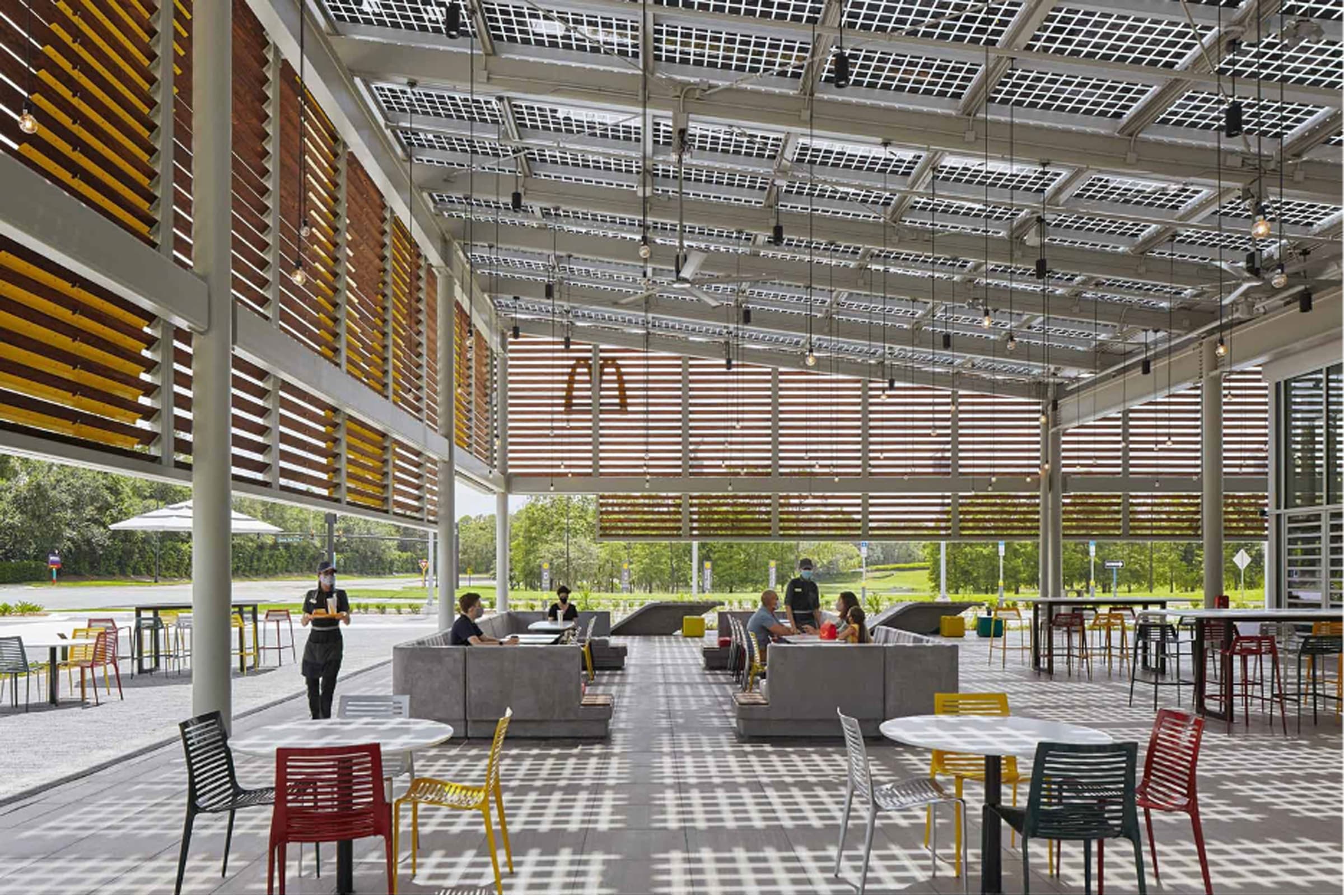 The McDonald's Flagship Disney in Orlando Florida opened to the public very recently at the end of June. Designed to be the world's first net zero energy fast food restaurant, the project employs many energy saving features to reduce the baseline energy use including enhanced natural ventilation of indoor space. Like the Searl visitor Center, the Disney Flagship's energy saving design is creating healthier space and resilience during the pandemic. Right now, as McDonald's has closed their indoor dining rooms nationwide, a shaded and ventilated outdoor dining porch allows safe dining for their patrons. The Porch was intended to encourage diners to enjoy less energy intensive using spaces when possible. Now it is extending the usefulness and comfort of the building in new ways.
Based on this very early information performance of our projects meeting COVID-19 challenges, we feel that there is a very valuable correlation between sustainability and health in building design. We will definitely be exploring solutions in this intersect: the health of our planet and the health of our people are intrinsically linked.
Image 1: McDonald's Flagship Disney Orlando, Image 2: Searl Visitor Center