Collaboration has always been key to business innovation, and as companies compel employees back into the office, they have an opportunity to reassess where and how collaboration happens best. For today's growing hybrid workforce, yesteryear's workplace design is no longer an incubator for fresh idea exchange. But tomorrow's could be if employers listen to new insights from the workforce.
As we speak, more than half of U.S. employees are struggling to do their jobs in their current office environments, according to a recent survey outlined in Unispace's Returning for Good, a Unispace Global Workplace Insights Report.
Who can blame them? Offices haven't traditionally been intentionally constructed as an ecosystem where in-person and remote colleagues alike can workshop ideas, let alone participate in the types of casual interactions that foster familiarity – another vital ingredient for collaboration.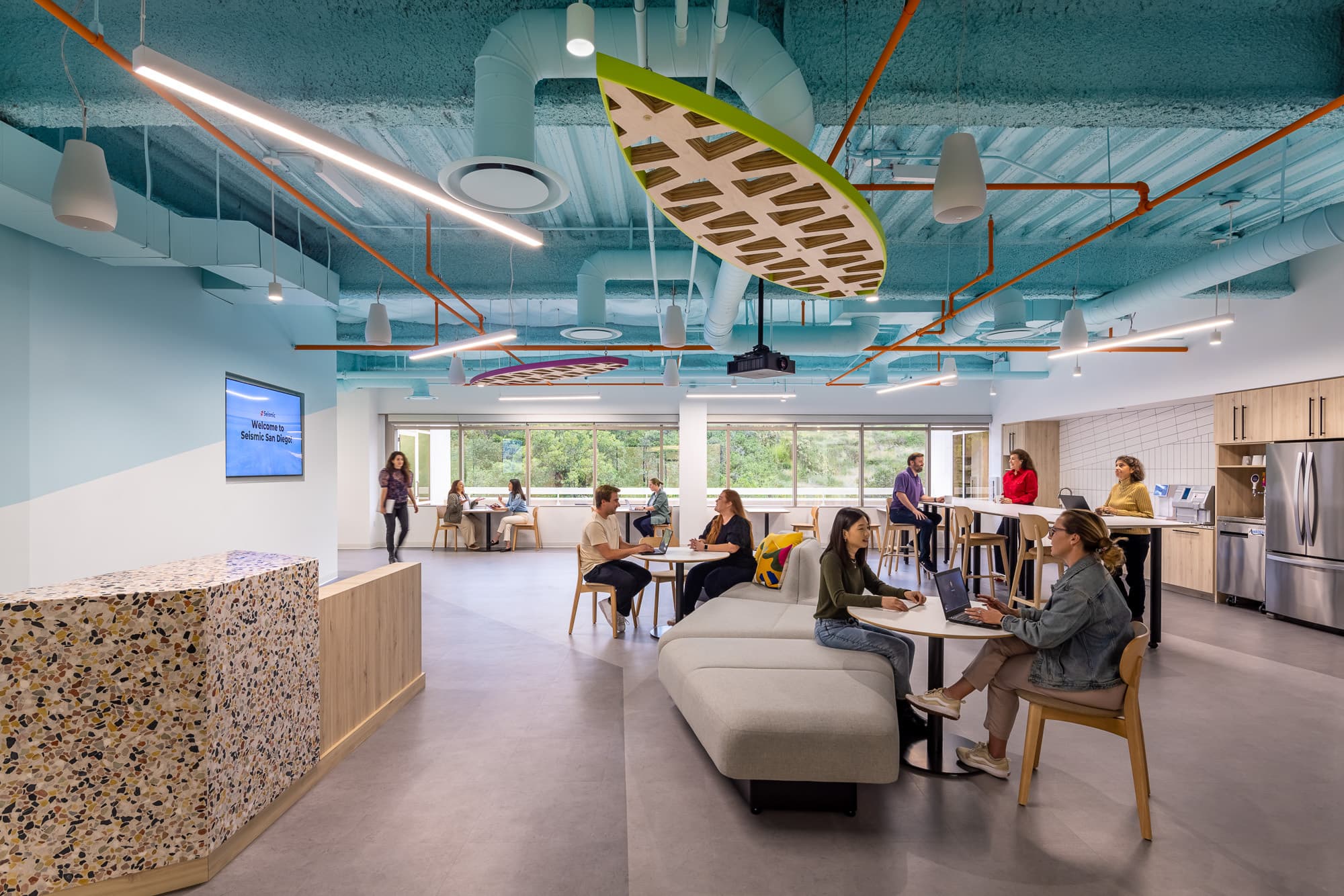 Now, however, organizations have a powerful opportunity to rewrite convention, drawing on new information to forge a brighter, more engaging and more productive future workplace. Here's what we know:
It's high time for change. Return to work is all anyone talks about, yet the ways in which people work have drastically changed. It stands to reason that the places where work happens should also change. Employees need a mix of engaging environments to match the space to the action.


Hybrid is here to stay. According to the survey, more than half (57%) of U.S. office workers report that they are going to the office four or more days per week (with an average 3.6 days in the office per week), which means we need to be looking beyond a single workplace toward a work ecosystem, which enables people to cross-collaborate seamlessly both in-person and remotely.
Social space isn't just nice to have — it's mission-critical. Employees' top two workplace 'likes' include social interaction and the opportunity to collaborate. What's more, liking their peers is the main contributor to brand loyalty. Yes, that means liking one's coworkers outranks enjoying the work and work-life balance.
So how can companies use this knowledge to bridge the gap between the needs of in-office employees, hybrid employees, and remote employees? And how can you do all that while also ensuring in-person time is primed for creativity, collaboration and innovation?
Below, we'll explore how workplace design can support all these goals and more, using a recent project as a case in point.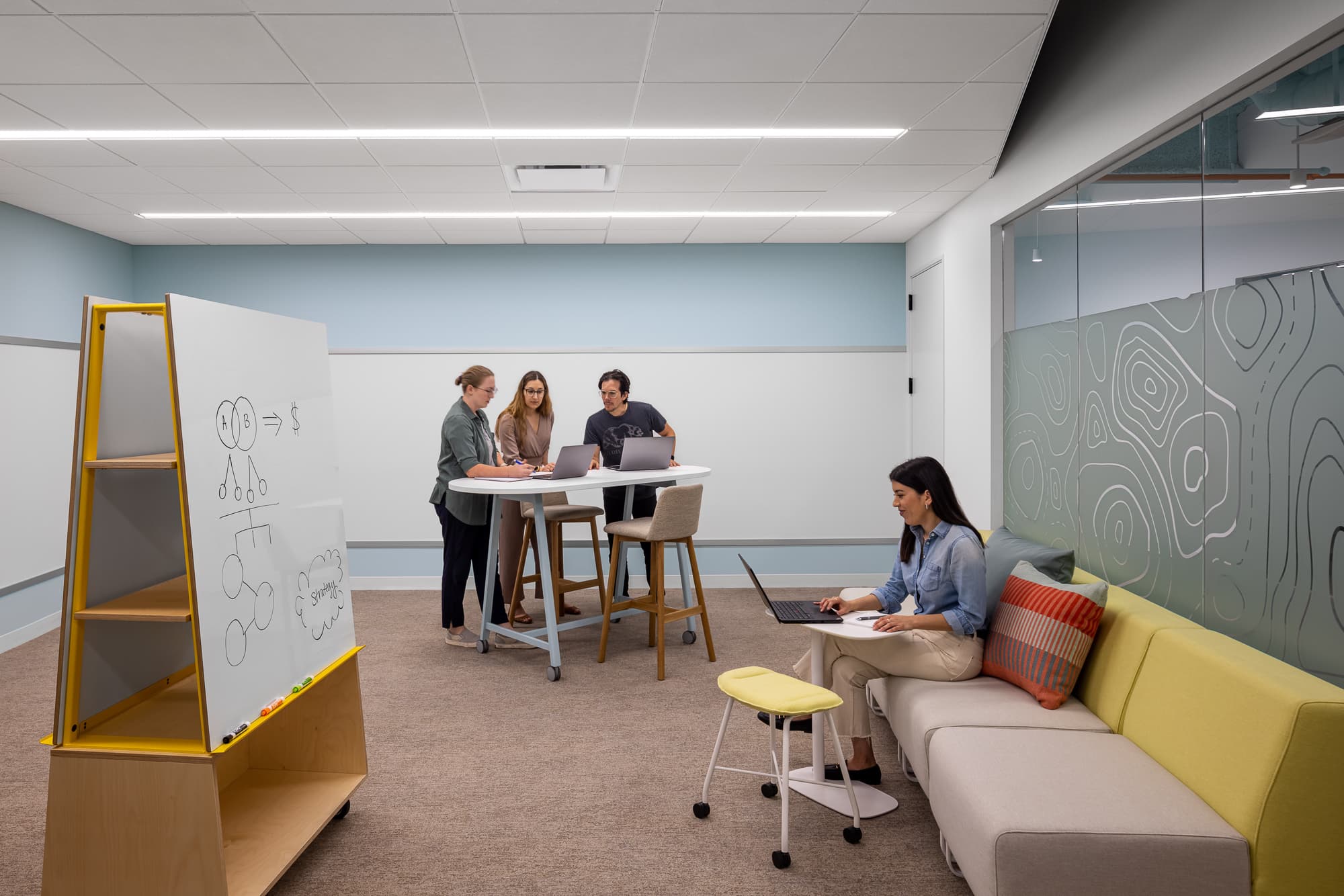 Five first steps to a modern collaborative work ecosystem
The ideal anchoring workplace should be a magnet for collaboration and community. As you plot out your company's next steps, consider the following takeaways from Unispace's experience helping sales enablement leader Seismic design and create its new global headquarters in San Diego.
1. Listen to what employees want. Recently certified as a Most Loved Workplace® by Best Practice Institute, Seismic knew its hybrid employees would feel empowered in a fresh, bright, textured working environment where different groups can come together, celebrate each other and clients, and foster new connections.

Your takeaway: Conduct internal polls, analyze employee surveys, listen actively, and design accordingly.
2. Give people built-in flexibility to organize by activity rather than traditional departments. Unlike more traditional office spaces, we structured Seismic's office space to allow them to easily connect and accomplish tasks, in turn promoting efficiency, independence, and collaboration.

Your takeaway: Consider dividing space into 'activity zones,' each focusing on different tasks – from focus time to video conferencing – to promote efficiency and collaboration. This might include a mix of different sized private rooms for individual heads-down work as well as team collaboration, together with large flex spaces, innovation hubs, social areas, and even game rooms to support team building.

And never underestimate the value of a good recharge: incorporate wellness rooms for medical needs, prayer and meditation, neurodivergent and/or mental health breaks, yoga, and more.
3. Make an authentic in-person experience. It may seem like a dance to ensure offsite workers feel just as engaged as in-person ones — but the in-person experience should not be minimized as a result. At Seismic HQ, for example, the new workplace pays homage to its unique location with memorable, locavore features like 3D-CNC routed plywood surfboards, meeting rooms named after California landmarks, and native greenery. Additionally, Seismic engaged their teams to add accessories that bring personalization for each team into the space. While everything is unassigned, specific areas were created where teams could personalize their environment.

Your takeaway: Give in-person work an experiential edge by integrating authentic design elements throughout the space.
4. Make work equitable wherever it happens. Seismic's hybrid global workforce can easily connect with HQ teams thanks to a range of meeting spaces that feature state-of-the-art technology designed for both virtual and in-person collaboration.

Your takeaway: Consider how meeting rooms and innovation hubs can facilitate brainstorming with flexible features like dynamic furniture and virtual as well as physical whiteboarding space. Another design element to consider is to create custom branded wallcoverings behind the person sitting so that the video conferencing experience is a clean branded one.
5. Plan for the future, with continual assessment. Beyond achieving a space that meets its employees' needs right now, Seismic plans to evaluate office space utilization over time.
Your takeaway: With ongoing evaluation, your team will have the insights they require to continually adjust action and space functionality over time, ultimately supporting the ongoing needs of your modern workforce.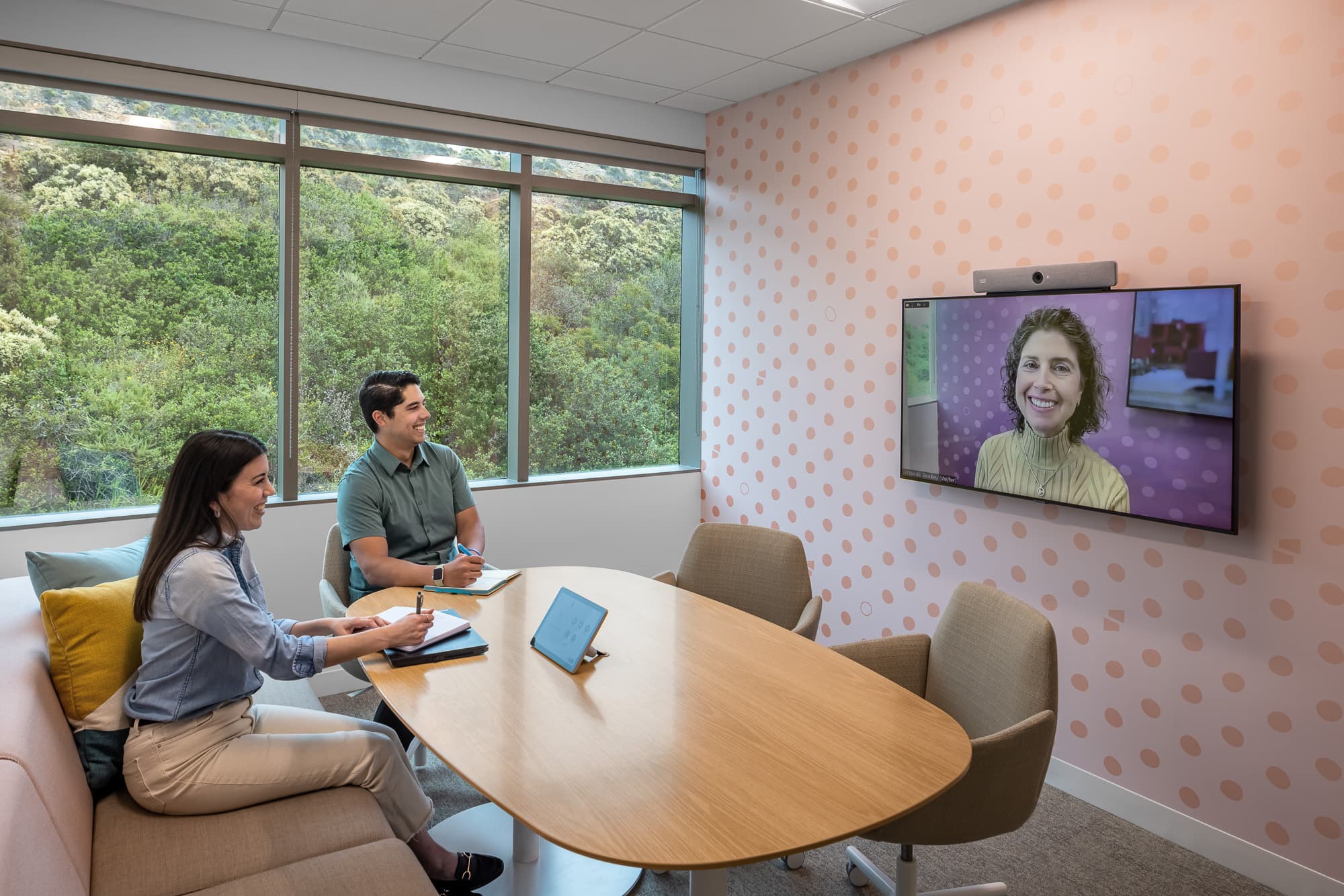 Ready, set, collaborate anywhere
The future of work is a work in progress. You have a meaningful chance to help shape it for the better.
By offering a work ecosystem where collaboration comes easy, your company can boost employee loyalty and ramp up engagement across teams now, and into the future.