ASID's 2023 Trends Outlook Report Examines Key Design Trends in 2023
Perhaps at no other time in history have we felt, with such magnitude, the impact of design in our lives. As the landscapes of cities and workplaces are changing, workers are experiencing stress at peak levels, and buyers flex the power of their spending with new demands. Designers have been called upon to better our world in unprecedented ways, and the impact of good design has become immeasurable.
From health and wellness to sustainability, aging and artificial intelligence, the design industry is responding to new and shifting priorities in commercial spaces in 2023. ASID's 2023 Trends Outlook report recognized the global mental health crisis as top of mind for all, and also showed that sustainability has become a must for consumers, who are now favoring companies found to be making a positive impact on the environment. The report predicts that design will see a new wave of technology ushered in with the use of AI and designing for the metaverse

The 2023 Trends report investigates issues affecting designers and consumers and equips practitioners with occupant-centered insights to support their work. Top insights for commercial design from ASID's 2023 Trends Outlook report include:
Mental health continues to be a major public health concern and a challenge to families, workplaces, and communities. Unhappiness around the world is at a record high, with people experiencing increased feelings of anger, sadness, pain, worry and stress. Designers, with their ability to creatively design and modify interior environments, can play a key role in supporting mental health and wellbeing in these spaces.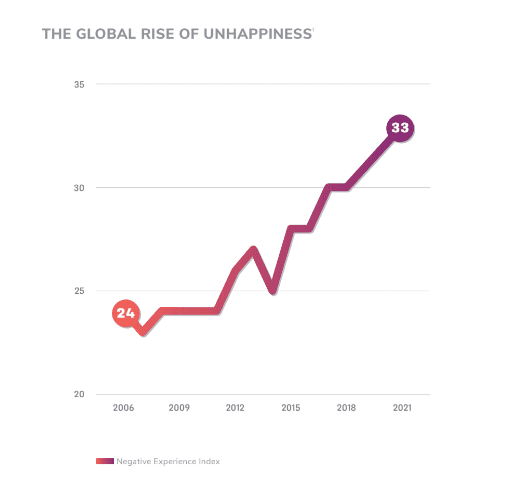 Stress among the world's workers reached an all-time high in 2021. The world's employees are feeling even more stressed than they did in 2020. Employees in the U.S. and Canada were among the most stressed globally. Because employee wellbeing is so closely linked to productivity and engagement, design that supports employee wellbeing has become imperative in the workplace.
Health and wellness remain atop the priority list in design. Interior designers are shifting attention to wellness and holistic healthy living, with choices in colors and lighting that address both the mind and body. As work and other external stressors have mounted, interior spaces have responded with maximized use of daylight, plants and natural materials, spa-like bathrooms and retreat spaces for exercise and meditation to help ease the stressors of the outside world.
New expectations for our workspaces. Office workers have expressed design preferences for multi-functional spaces that prioritize health and wellness. Residential and commercial spaces alike need to be oases for relaxation, offering respite from external stressors, and materials used must demonstrate a commitment to sustainability by both the builder and the end user.
Artificial Intelligence (AI) is extending into all areas of design practice. Advancements in AI are aiding design teams by reducing overall lead times on projects and expanding creative discovery by memorizing insights from thousands, if not millions, of previous project data using specified computer vision.
Remote workers are being called back into the office. As the job market gradually cools, employers are offering fewer remote-work positions and requiring more current remote workers to return to the workplace. Job seekers want remote work options, but on-site only job posts are becoming more common.
But, workplaces are becoming more inclusive and accessible. ASID's 2023 Trends report found that older Americans are opting for "rewirement," rather than retirement. The return of retirees to the active workplace has forced work environments to adapt to accommodate aging employees. Traditional office environments of the past—noisy, crowded and brightly lit—could also overwhelm the neurodivergent population. Acknowledging neurodiversity ultimately means providing flexible and adaptable workspaces, where all members of the neurodivergent community feel comfortable and included. Today's workplaces need to have a new look—they must support hybrid work arrangements, inclusion, and accessibility for neurodivergent employees, and use of more smart technologies for multi-modal use.
Older adults are rethinking their post-work lives, opting for "rewirement" instead of retirement. Of all retirees, ASID found that 61% end up returning to work at least part-time. About half of those who return to work prefer a hybrid work arrangement. Workplaces are adapting to support a multigenerational workforce.
Design for video conferencing, social media content creation and influencer marketing is a trend. ASID found that an increasing number of residential and commercial spaces are being modified to make them Instagram- and Zoom-worthy. With an ever-growing reliance on videoconferencing for remote work and the proliferation of photo and video apps, content creators desire backgrounds that showcase their personal brand, and designers are supporting this trend with accent walls, decorative objects and other visual features that show off their clients' personalities.
Designing in and for the metaverse is gaining momentum as a design specialty. Forward-thinking companies are already exploring how they might use the metaverse to engage with customers. Lifestyle and fashion brands are using graphic and interior designers to create innovative, stunning artificial reality (AR) environments such as retail spaces, hotels, restaurants and pop-up spaces. Recent articles from design publications have urged interior designers to "get on board," even going so far as to creating Metaverse design awards for interior and architectural firms to showcase their work done within the digital space.
Some offices are being converted, while others are becoming more inclusive and accessible for neurodivergent employees. ASID's research examined the "adaptive reuse" trend in offices being converted into residential spaces. Elsewhere in workplace design, the Outlook Report shows that design for neurodiversity is increasingly popular, as employers are providing flexible and adaptable work environments that support neurodivergent workforces.
Our material choices show we are seeking a greater connection to the natural world.
Synthetic materials and hard surfaces are giving way to warmer, more fashionable materials, such as natural fabrics, lighter woods, and renewable materials like wool, cotton, bamboo, linoleum, and cork. Responding to consumers' growing interest in sustainable living, top brands are touting eco-friendly and -responsible products, giving designers a much wider variety of quality products, materials, and finishes.
Sustainability and wellness in hospitality.
Hospitality guests are gravitating towards properties that demonstrate a commitment to sustainability and wellness, and in turn, hotels are declaring their commitment to sustainability and wellness by switching to natural materials and incorporating plants into their spaces. Hospitality properties also are starting to use healthier finishes, incorporate more natural light, and provide more access to nature and nature views. To appeal to wellness-minded travelers, the hospitality sector has embraced green and biophilic design, and properties are incorporating these elements into their renovations and remodels. Strategizing the use of eco-friendly products and materials, and the addition of elements to improve wellness, can provide a huge benefit to the hospitality industry when appealing to consumers wanting to reduce their carbon footprint.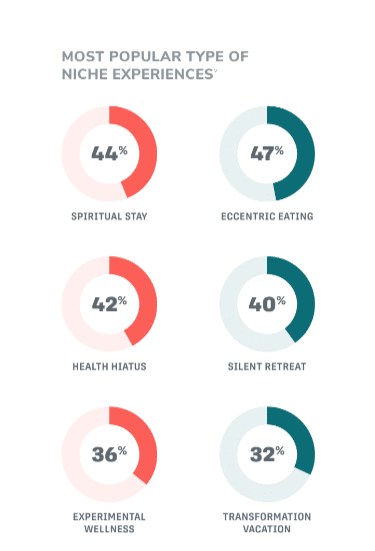 The ASID Trends Outlook is part of the three-part Outlook Report series, and is available for download at asid.org. Check out the report to explore trends specific to each market sector, including hospitality, healthcare and retail.