What does a rustic, century-old cottage on the Cape that has been in my family for four generations have in common with my professional life, which revolves around the design of urban office space? Though they may seem like antithetical places, the cottage is where I find inspiration and a deep connection with nature that in turn informs my urban work.

The cottage—without air conditioning or heating save for a fireplace—is a primitive setting, but it's also the most healing place I know. The question is how can we create healing environments in the urban context, and particularly in the modern workplace? And how can we attract workers back to the office after a year spent working in the comfort and confinement of home? It's also an exercise in efficiency—a purpose for every space and a space for every purpose.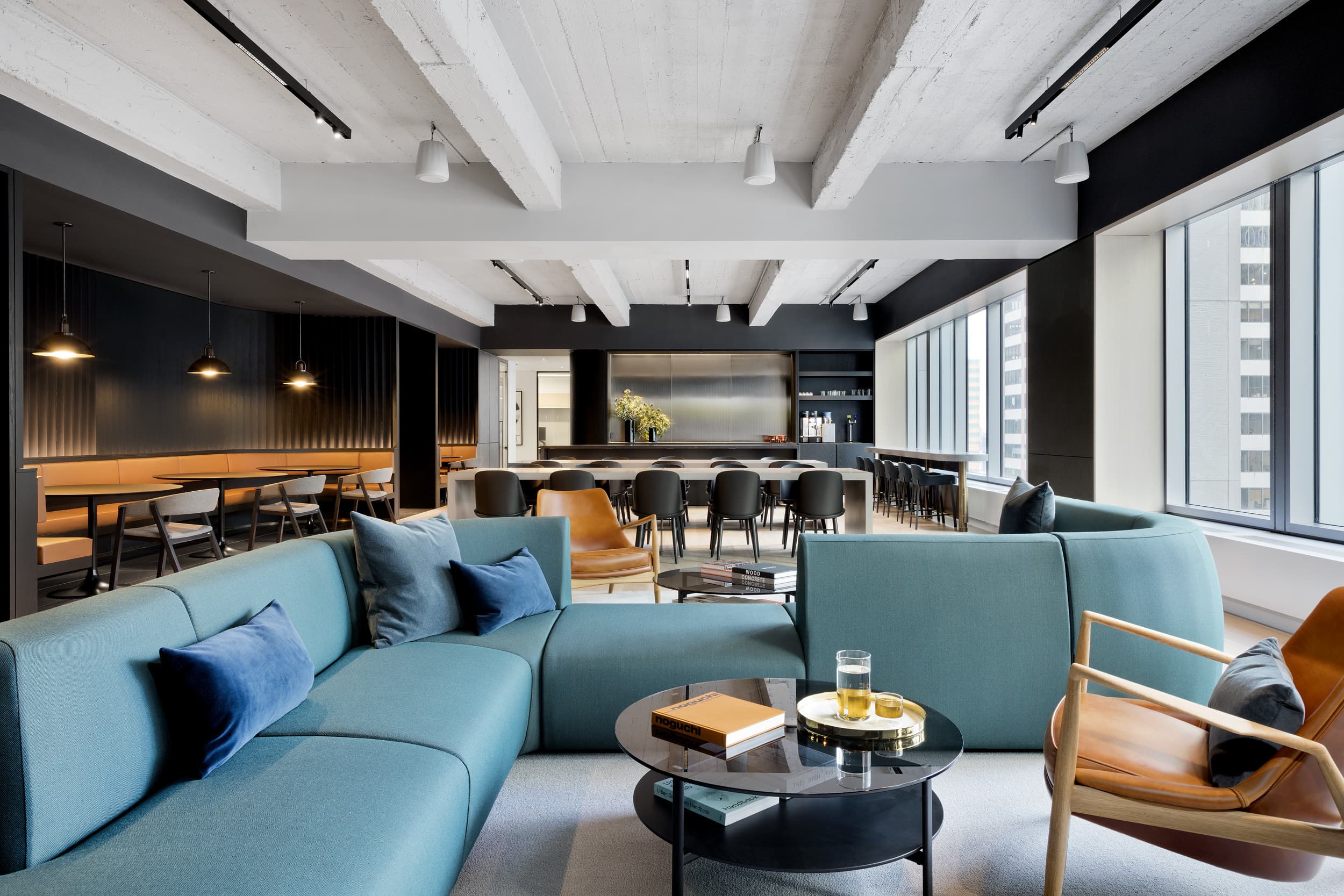 The Manhattan headquarters of the Rockefeller Group
We see infusing an array of thoughtful amenities into a space as the answer—amenities that provide employees with the aspects of home they might miss and with a variety of space types that allow them to do their best work.
The ideal places for work differ by function, time of day etc. We're past the point of thinking it can all happen sitting at the same workstation all day. Employees crave soft seating and more comfortable, informal places to work, as well as outdoor spaces, more than ever.
For a recent, forward-thinking project in Manhattan, we created communal areas for casual meetings, larger gatherings, and dining. While people may need big screens for intensive work at dedicated desks, they may also want to use shared spaces, or a huddle room, or a phone room to run numbers, for example, on their iPad or laptop. We also designed spaces for wellness, such as a multipurpose room for meditation or other personal uses.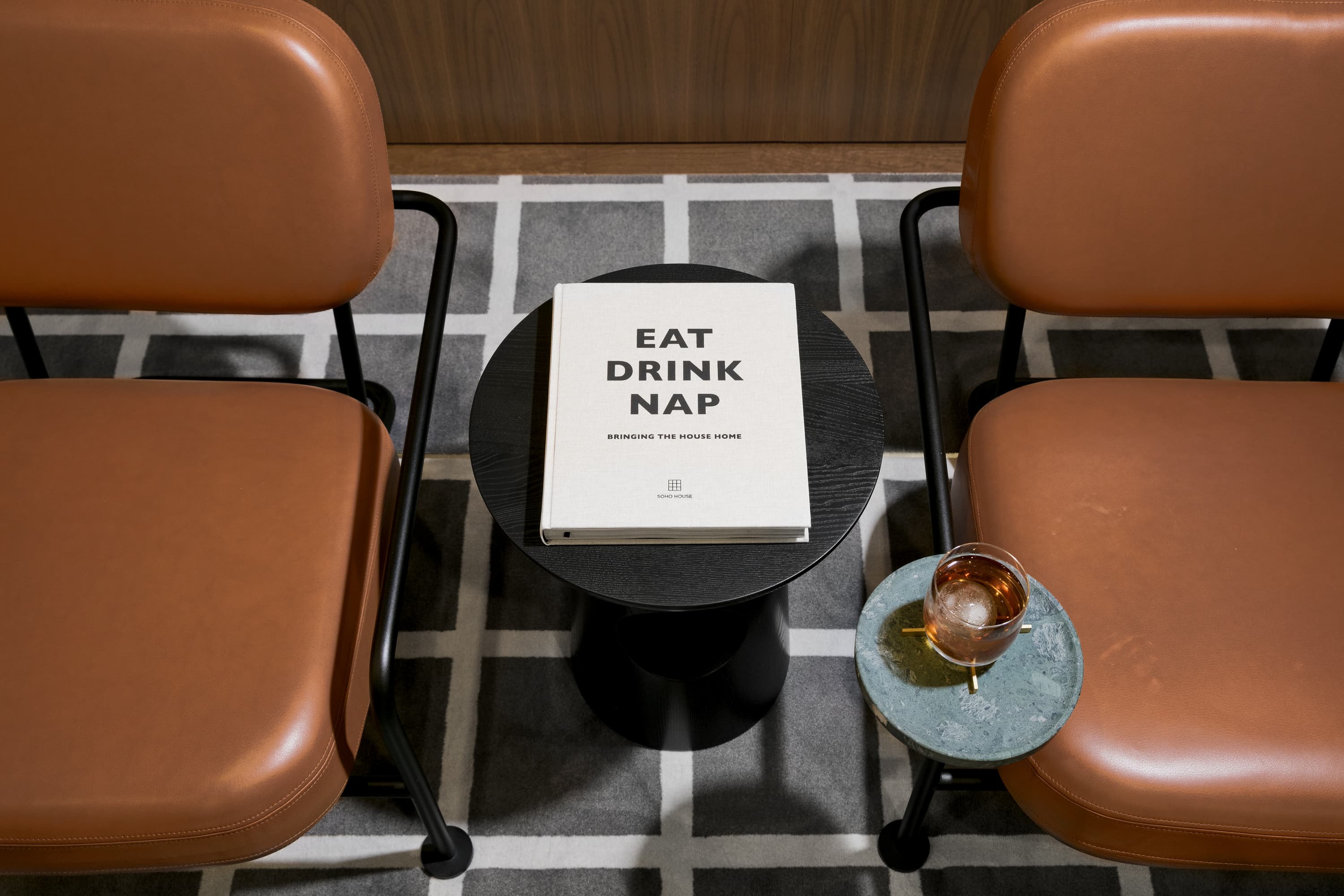 Inside 1700 Broadway Club
On the flip side, while it's important to include some of the creature comforts of home back into the office to entice employees to return, designers can also go too far and risk causing discomfort and/or setting the wrong tone.
Furniture solutions are often the go-to when creating new spaces that cater to a variety of work styles. For example, comfortable lounge chairs paired with a laptop table are perfect for solo, focused work. However, specifying a chair with too much of an incline, especially when paired with not enough coffee in the AM, can decrease productivity. It's important to study the chair inclines to ensure focused and alert work.
Beyond beauty, designers also need to consider the height and usability of coffee tables in the office setting. Avoid specifying tables that are too low—anything below 14" is truly not functional and risks becoming a tripping hazard.
With the return to the office, employees will want to bring their kitchen pantry with them. Healthy snacks, fridges for lunches, filtered water, sparkling water and perhaps beer or rosé on tap will be an incentive for employees. When designing office pantries, designers need to keep in mind the storage requirements for these new offerings.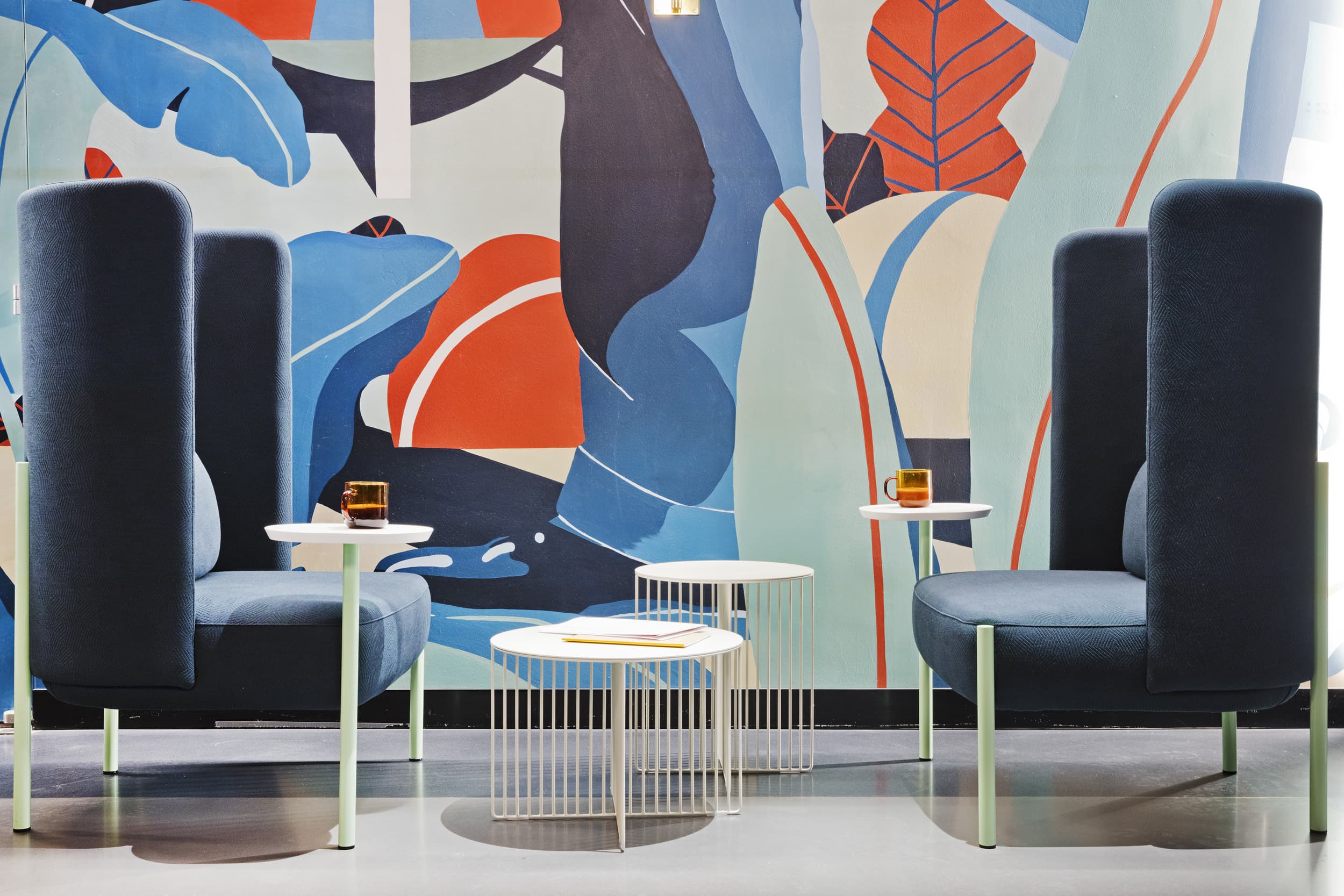 A seating arrangement inside the lobby of Dock 72
When installing smaller conference rooms and phone rooms, designers should consider the sight lines towards the office space. Now that Zoom conferencing is the new normal, a polished, professional background is a must.
Meditation rooms will be critical for employees to take a break and set aside time for wellness. To ensure that these spaces do not become private offices for some, provide scheduling iPads and/or calendars outside of the rooms to avoid the risk of these spaces being claimed for too long.
It's all very nuanced, and it takes a layered understanding of company culture and values to create a workspace that inspires employees and allows for creativity without overindulging them. The challenge is designing spaces that are residential in feel, yet distinctly commercial, which can be achieved through a considered approach to evaluating space programs and furniture selection.

Lead Image: The lobby of Dock 72