How do you know how your employees, colleagues, and clients are coping with COVID? The answer to this daunting question is actually simpler than you think: you ask. However, what you ask may be different than you think. The power of asking the right questions to guide our design decision-making is one that cannot be undervalued, especially through a world-shaking event like COVID-19. At the American Society of Interior Designers (ASID), we have long proclaimed the value of research and its importance to the design process, with a focus on the benefits of conducting pre- and post-occupancy research to make for smart spaces that support mental and physical well-being, bringing out the best in their occupants.

Now, research must define the path forward for our industry. Through a series of biweekly pulse surveys, ASID began tracking the responses and progress from practitioners and manufacturers. We asked a mix of recurring questions each survey round to see how opinions and responses shifted, as well as peppering in timely topics such as mental health and preparedness for a return to work. From identifying early cases of "Zoom fatigue" to understanding the downswing or uptick of project work, we have been able to see how sentiments have changed over time as living through COVID became an accepted reality. The industry's resilience and innovation have been particularly notable during these trying times, a testament to the creative problem-solving designers do on a daily basis. Here is what we learned in the latest Pulse Survey, which participants answered June 9-10, 2020.
We find stability among the constant changes, seeing more consistency in our experiences and expectations.
We see project activity picking up as states and businesses reopen, showing positive signs for business recovery.
We expect innovations within design - from products and materials to technology to design strategies - to emerge from the changes around us.
We show agility as a strength of the interior design community, especially as changes continue to happen in this time of disruption and uncertainty.
The interior design community shows signs of resiliency and development as project activity picks back up and estimated recovery time stabilizes. There is still a lot of ground to cover and uncertainties in how design will evolve, yet the ID community sees this as a time for innovation in products, materials, strategies, and technologies. The community also reported on expected changes in interior design practice that utilize existing resources in creative ways, embrace new standards, and identify emerging needs.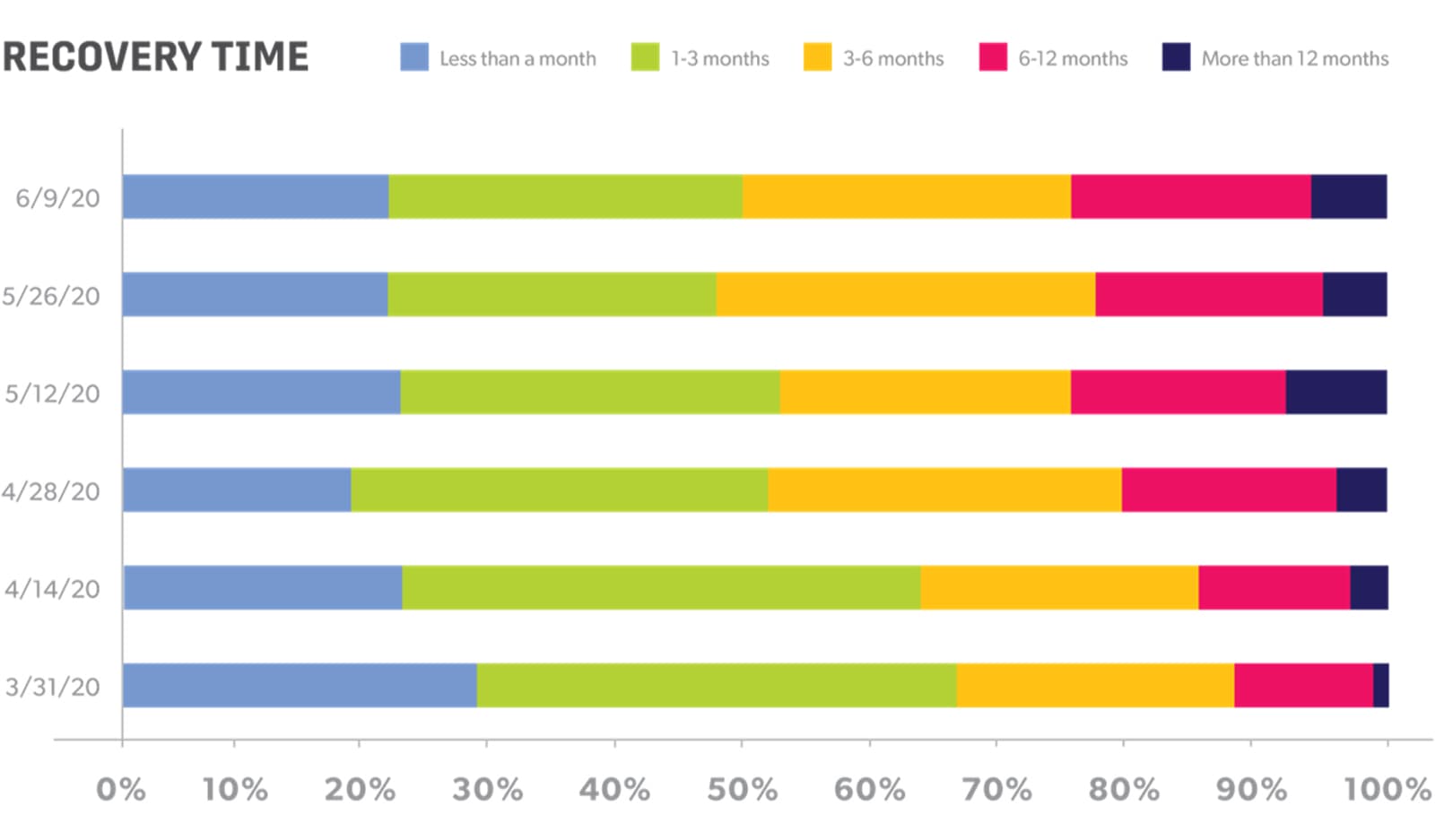 Participating designers estimate how long it will take their business to recover to pre-COVID conditions.
So, what is next in how we continue this research? Our pulse survey will be shifting to a monthly format to reflect the industry's growth and stabilization. We will also be looking deeper into the changes experienced and further ahead with new advancements projected through a comprehensive Resiliency Study. This program has been designed in multiple phases to track industry effects and progress over more than a year. The impact of COVID will be with us far beyond the time when we are able to stop wearing face masks and begin shaking hands, so we must act now to support our industry's evolution. Putting tangible knowledge and research in the hands of designers is the way we must move forward, enabling the community to make educated decisions and understand their place in relation to their peers to best support our occupants.