The Power of Well Designed Workplace Dining Areas
At work the other morning, an announcement came over the office P.A.—a vendor was giving a presentation in our library. The world is healing from the Pandemi Moore! I thought. (Because who calls it the Pandemic anyway?) Expecting pastries as we learned about new design products, I rallied a few new co-workers: "Come on! There are usually snacks for these presentations!" We arrived, and…betrayal. No food!

I was now a liar, and my dear mother would be so disappointed. I turned to the younger staff and profusely apologized that I had bamboozled them into attending this food-less meeting. I ultimately accepted the absence of snacks–we are still in The Panorama after all. In the before times, vendors had an unspoken rule: bring tasty food to draw people into a highly technical topic, and boy did it work! Food in the workplace has long provided a reprieve from a hard morning or a mid-afternoon slump. Nothing brightens my inbox more than the subject line: "Extra cookies in the breakroom". If anyone's workplace is like ours you already know the deal—you snooze you lose, so you better run. More than two years into Covid, the inability to openly share food still feels disconnected and unnatural.

During The Panini, most, if not all, of our meals were at home. From dalgona coffee to sourdough starter (mine is named Janice) to Samin Nosrat's "The Big Lasagna" recipe, food has shaped our WFH lifestyle as a comfort in an uncomfortable world. (Apologies to my boss for all the missed calls when I was elbow-deep in sourdough building a strong gluten structure.) When parklets and outdoor dining spaces popped up, people were ecstatic. Eating outdoors at our favorite reopened restaurants, we felt relief from our collective isolation. We were finally allowed to see friends and family!

While many companies continue to operate at a reduced capacity, one thing remains true for our clients: People need to eat. William Whyte, a notable figure and leader of sociology and urbanism said, "If you want to see a place with activity, put out food." To break bread with others is an invitation into our social bubbles—bubbles that we've guarded for over two years to protect ourselves and others. Sharing a meal is a pivotal step in building relationships, from business to friendship. Food is a common thread that bridges cultures, languages, and class hierarchies.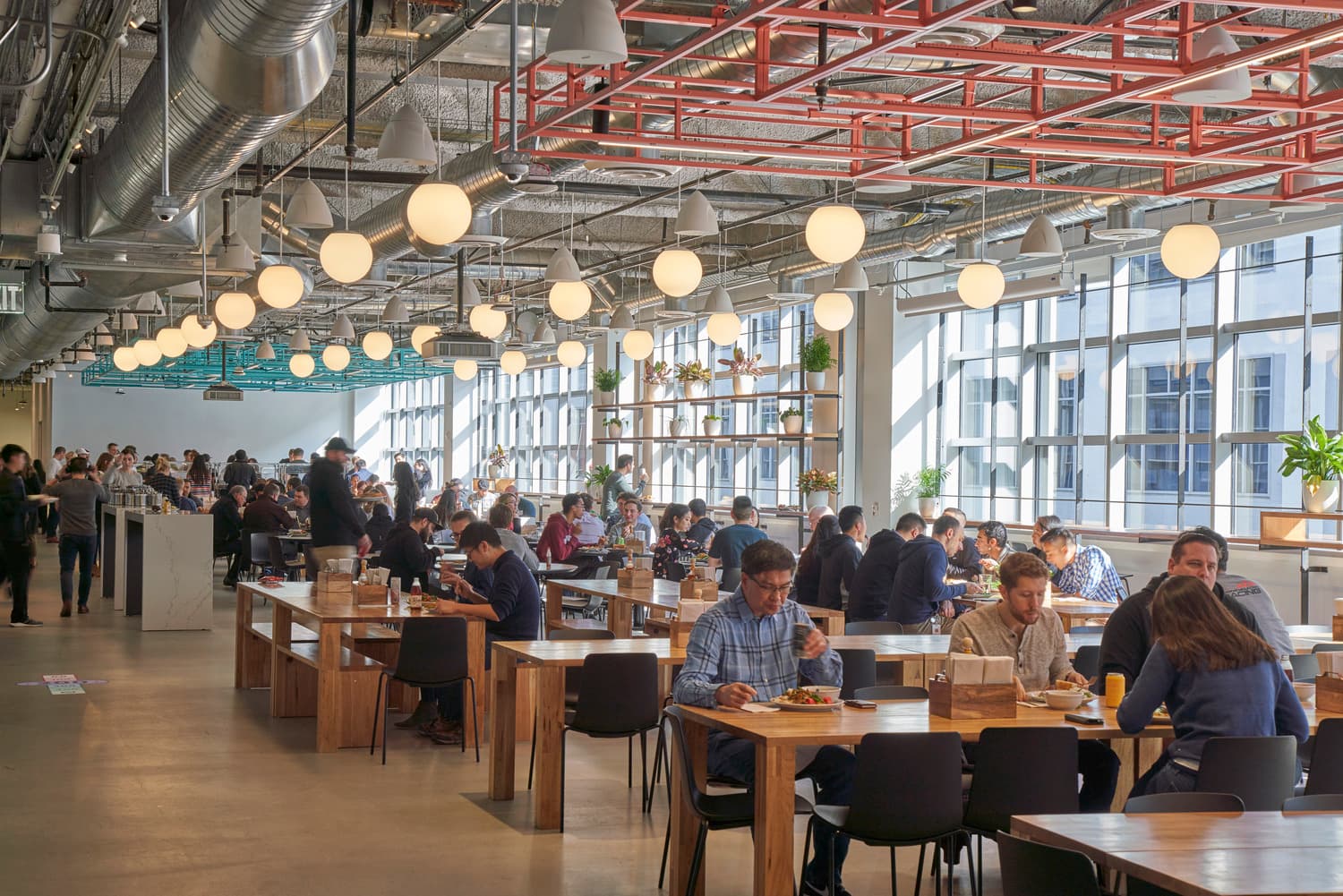 Lyft Headquarters, designed by STUDIOS Architecture. Photo: Bruce Damonte
For our clients, workplace food programs have constituted large proportions of project area and cost, even at the height of The Pandora. From Nickelodeon and Lyft to The Hub at Stanford Research Park, food is key. These programs are often regarded as one of the most important program types, second only to a user's workstation.
In the hybrid mode of work, people no longer go to the office for heads-down work at their desk. (Or worse, take a zoom call out loud when others are around. That's what conference rooms are for, Linda!) They come to meet in person, and food is a focal point for engaging with their work community. At the recent soft opening of a tech campus we designed, our client invited 500 employees to test out the space. As our team traversed the campus to wrap up final items, we wondered if the The Panasonic had put a damper on their test, since people were few and far between. Little did we know that come lunchtime, droves of staff would flock to the cafe. Where did all of these people come from? Had they been hiding in the basement? Why am I now waiting 30 minutes for a Philly Cheesesteak?! Should I have ordered the Shrimp Po-boy instead?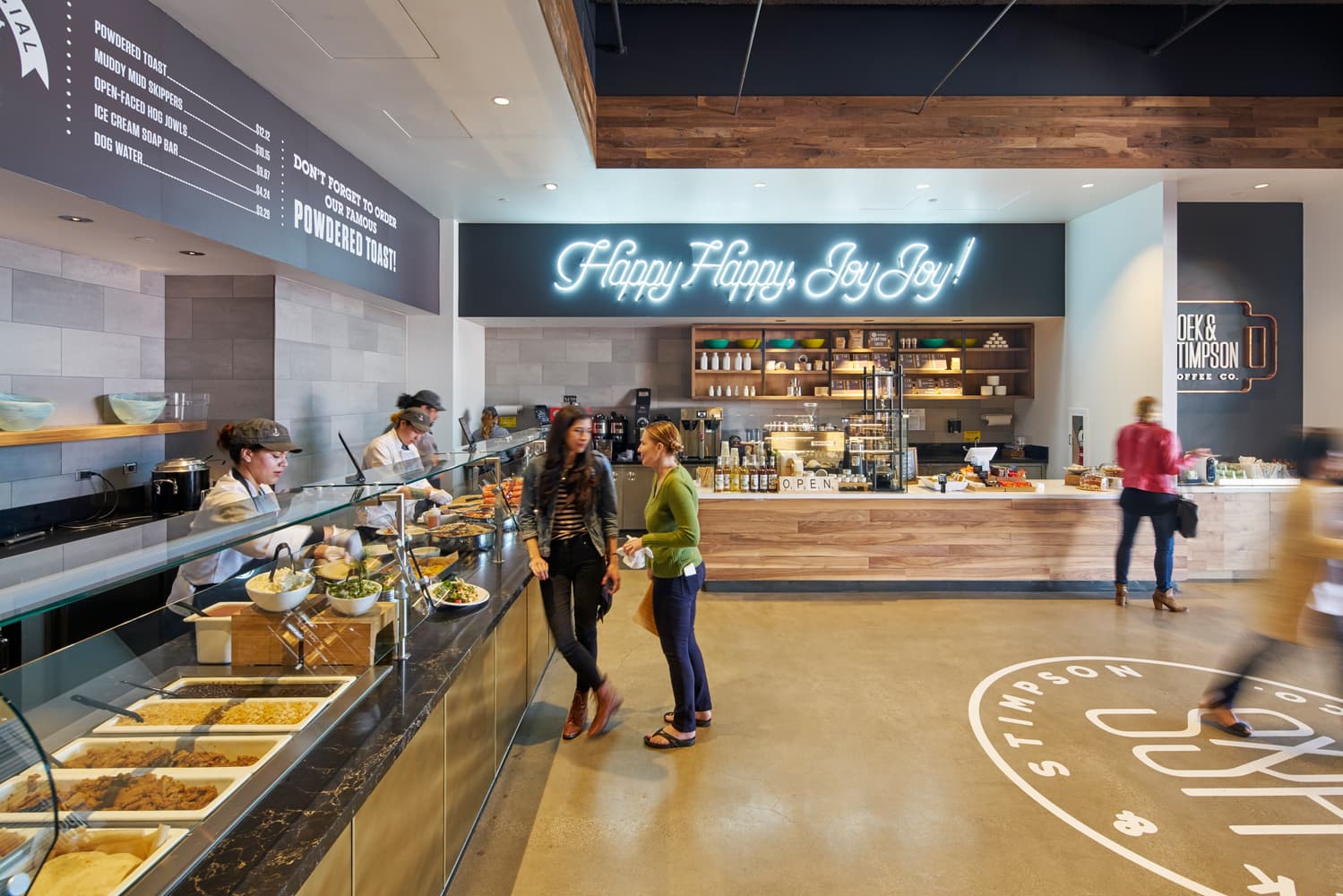 Nickelodeon West Coast Headquarters, designed by STUDIOS Architecture. Photo: Bruce Damonte
So how do we leverage the design of these spaces to make the workplace a desirable place to be? Cafes are highly technical spaces, from MEP systems down to the comfort of a seat. As a program type, the cafe space has a specific purpose, but it can also be used beyond that primary purpose. While cafes can provide a moment of pause to enjoy the company of others, the furniture should also facilitate a working session–it is crucial that the ergonomics of the chairs, booths, and banquettes are comfortable enough for a long meeting over chicken shawarma and falafel.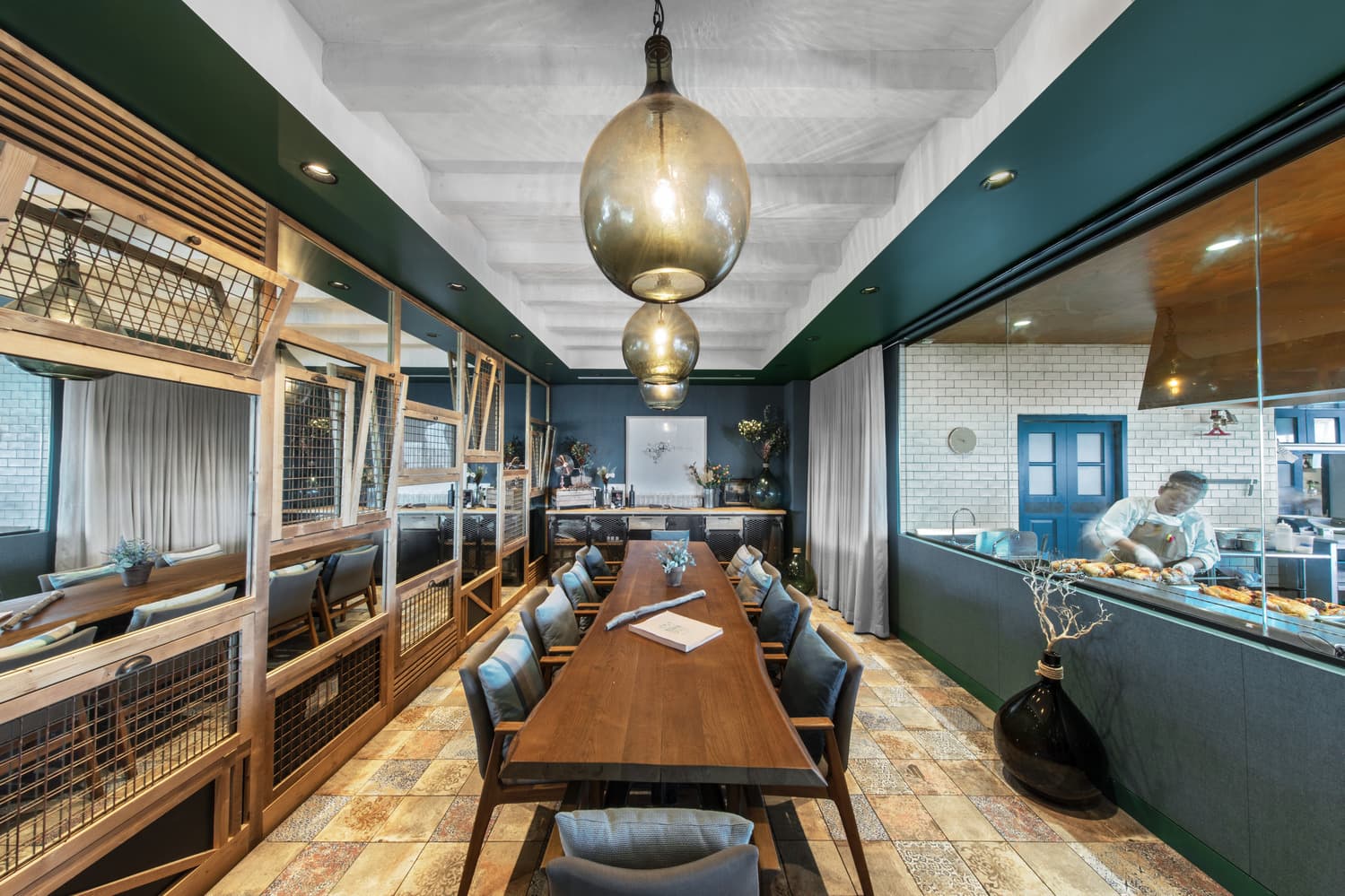 Eataly Los Angeles, designed by STUDIOS Architecture. Photo: Eric Laignel

For the recent tech campus project I mentioned above, we implemented a seating typology that we call the "Farm Table". It is often the largest table surrounded by the highest level of finish in our cafes, offering a multitude of uses and a bit of a "mome" (moment) some may say—probably elder millennials such as myself. These Farm Tables can be used for a single large party of 12-16, smaller groups of 4, or several individuals. This typology is known in the restaurant industry as a communal dining table, where strangers can intermingle, casually chat, and talk about what is before them—the food. In the workplace setting, it is all that and much more: it encourages an exchange of ideas and a building of trust.


Getting staff into the office after years of working from home has been tough. But as food programs and restaurants reopen in and around the workplace, I believe we will see a steady climb in the return of employees to the office. We all have strong memories tied to sharing meals with people we care about, and those we are meeting for the first time. These moments can help build the trust and camaraderie that is crucial to a successful workplace team. People will come for the food, but will stay for, well…the food.

And yes, I should have definitely opted for the fried shrimp. I'll have to go back.