As summer came to an end and I prepared my son to head back to school, my thoughts drifted back to a time when my work was focused on designing schools. No matter if the project was for a higher education or grade school client, even decades ago we spoke of the need to create environments that would better serve learners of all types and styles. The wish was to one day help institutions break away from the traditional "sage-on-the-stage" educational model and embrace an approach that is more engaging – one that offered greater connectivity with students, promoted enhanced participation and fostered new forms of active learning. These forward-thinking conversations forced our design approach to evolve and inspired those in the profession to reconsider how we designed learning environments.
Fast forward to 2022. Today, I look at physical workplaces – some that were 'left behind' as a result of the pandemic and others that were designed pre-COVID – and wonder, "How did we get here?" Not too dissimilar from traditional classrooms designed with rows of desks and chairs to promote efficiency and instill discipline, many workplaces contain rows of workstations created for efficiency and are lined with offices intended to reinforce corporate hierarchy. Some include slight variations, with conference areas, collaboration spaces and amenities sprinkled in. But, by and large, have we really evolved much since the open office concept was implemented in the early 1900s?
I understand that this is simply how the world of work has operated for over 100 years. We are, after all, creatures of habit. But that does not mean this is the way it should be, particularly since we have been integrating advancements of the modern era into our work toolkits for decades. Current generations, and certainly those that will come after Gen Z, are accustomed to learning in environments that provide choice based upon individual learning styles. This notion has played a substantial role in creating learning and work environments that best suit preferences and needs. These generations have long been given choice and flexibility, encouraged to select settings and modes of learning based upon how they best learn, study and work – both in groups and independently. As a result, employees in this demographic expect to be provided with the same – if not better – range of choice in their working world. Now here in 2022, the space needs to equip and empower them to choose to engage and operate in both virtual and physical worlds.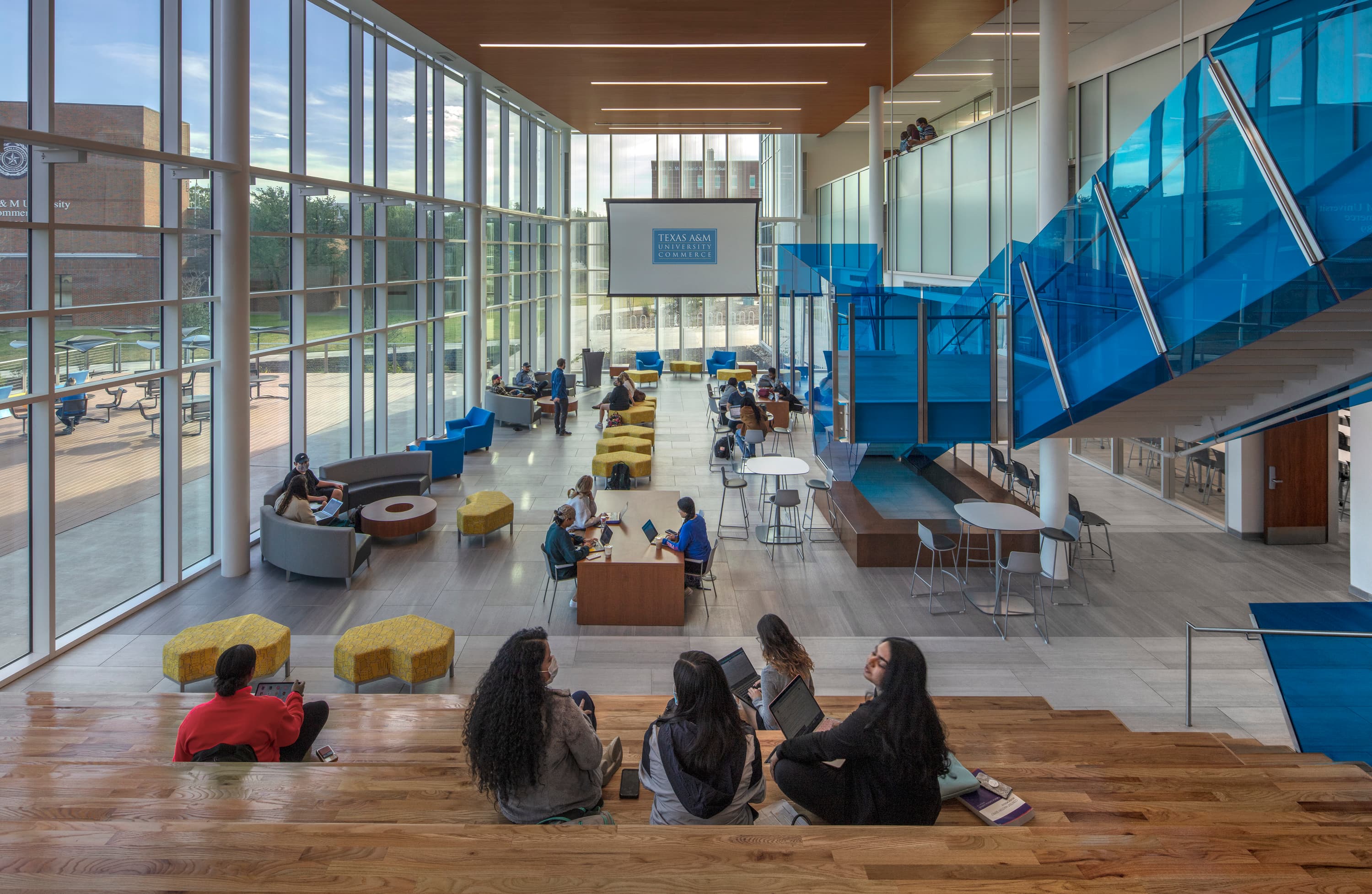 Texas A&M University Commerce Nursing and Health Sciences, Commerce, TX. Photograph courtesy of SmithGroup. Copyright Bill Timmerman.
How do we as strategists and designers better prepare our workplace for emerging and future generations of employees? For the last decade, more companies adopted activity-based workplace models and integrated hybrid work modalities. For practical purposes, "activity-based workplace" can simply mean that organizations provide a wider range of settings than in the past, such as varieties of collaboration spaces in addition to conference rooms. This design concept can also integrate either full or partially unassigned seating or free-address models. Either way, it is a good start to providing better choice for all types of work modes (those defined by type of task) and work styles (those defined by individual style/preference). In many cases, adoption of this model aims to reduce an organization's real estate footprint. We have learned, however, that the free-address model does not necessarily reduce real estate, but simply shifts allocation of space from individual to team-based workspaces. With hybrid work, there is also greater focus on spaces that will bring people together, often through a third space category intended for social activities or connection. Each space category – individual, team, or social – should include a broader range of typologies than a traditional, simplistic approach. Individual space, for example, may include respite or library zones to better support work style that does not necessarily benefit from a workstation or a phone room.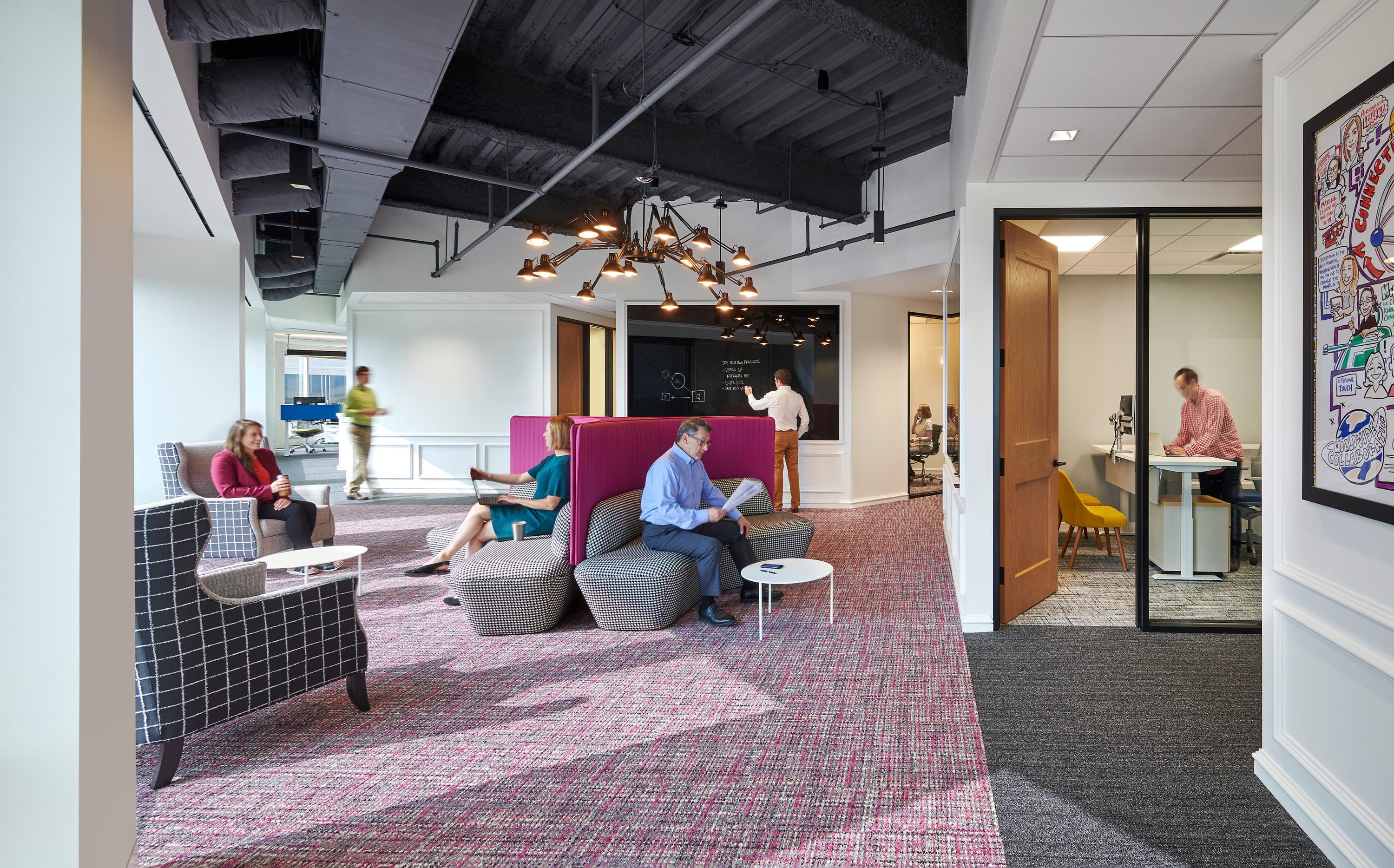 Blackboard Headquarters, Reston, VA. Photograph courtesy of SmithGroup. Copyright Judy Davis.
If we've learned nothing else, we should remember that design by efficiency is not necessarily ideal for humans. Fundamental to the concept is ensuring equal access to choice for all and creating adaptive and agile environments. This can be challenging when we consider the type of hybrid work model one will integrate. The best practice is to first understand your organization's range of work modes and develop an appropriate workplace strategy to avoid another one-size-fits-all path.
The war for talent continues to challenge organizations. If companies are to win over the hearts and minds of emerging and future generations of employees, it is imperative that we approach the design and use of the workplace with a fresh new perspective and mindset. Today, we have a once-in-a-lifetime opportunity to rethink workplace solutions to attract and appeal to a generation that has never experienced working in the traditional office, as well as those who have previously worked in this world but are ready for change. How cool is that? I, for one, am ready to be "back in session" to make our workplaces better for all of our diverse work styles. Are you?